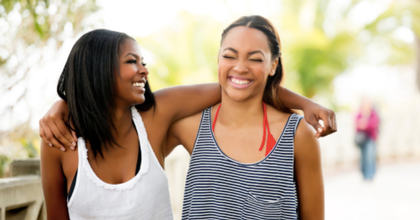 Photo of two friends laughing. All men need different types of girlfriends. [Photo/dreamstime.com]
Having a loyal friend makes life more complete. Women cannot do without a girlfriend to share with her little secrets, nights, gossips or hangouts.
Below are the kinds of friends a woman needs to make a her life charming:
Top on the list is a cheer leader girlfriend. This type of girlfriend is always happy and takes life in a positive way. This friend will help out of that moodiness, sadness and insecurity you may be experiencing. Your special occasions such as friendship anniversary and birthday date are always on her mind.
College ride is another type of girlfriend a man needs. You meet her on the first day of enrollment in first year. You experience certain life lessons together which bonds you and makes your friendship stronger. She will always support your ambitions and dreams.
Partner in crime is another type of girlfriend a woman needs. She is always there for you any moment you need a plus one for an event. Despite not talking to each other on daily basis, she always checks up o you and responds immediately.
Co-worker girlfriend is another type of girlfriend you can't miss. You will meet this friend at work place. She is always there to add some life to those stressful work moments.
She updates you on gossips from work and motivates you to soldier on at work. Because she understands pressure at work, she will invite you for a drink to relax your mind.
Lastly, the rock girlfriend. She gives you all the time and listens to your problems. She gives advice and helps you make wise decisions no matter how the tough the situation.
Since she understands you well, she will boost your emotional spirits and help you recover from any stress.